The   Yorkshire Archaeological and Topographical Journal
By Yorkshire Archaeological Society – Volume II 1873 pp 411-415
In the memorable year 1745, the landing of the young Pretender in Scotland threw the whole kingdom into a state of alarm and excitement; at that time Dr. Burton appears to have been diligently engaged in the practice of his profession, whilst he devoted with indefatigable industry every moment he could spare to those literary and antiquarian pursuits to which he was so strongly attached. But a cloud was impending which soon afterwards overshadowed his fortunes, and cast a gloom over his future life, never to be entirely dissipated.
A considerable proportion of the higher class of the York people were of the opposite party in politics to Burton, and by most of them he was regarded, not merely as a violent Tory, but as a confirmed Jacobite, and in religious feeling a papist. The injudicious step he took, as soon as it was known in York that the rebel troops under the command of the young Pretender had crossed the border, gave some colour to the imputation that he was favourable to the cause of the Stuarts; but, if the account he gave of his proceedings on this occasion may be credited, the charge was without foundation. That he was no papist, but a consistent member of the Church of England, is now generally admitted.
On the 22nd of November, 1745, Dr. Burton and an anxious crowd of York gentry were assembled at the Guildhall, waiting to hear news of the progress of the rebels, when an express arrived to acquaint the Lord Mayor that the vanguard of the Highland army had arrived at Kendal, but it was uncertain whether their future route would be through Yorkshire or by way of Lancashire.
It happened that Dr. Burton was the proprietor of two farms situate in the lordship of Newby, near Clapham, a few miles beyond Settle in Ribblesdale, in the West Riding, and not far from the borders of Lancashire, the rents of which, due at Michaelmas, amounting to £120, the Doctor had not received, and he was apprehensive that, by the near approach of the rebel army to the place where his property lay, he would be in danger of losing the money due to him. He debated with himself, and consulted with his friends at the Guildhall, as to the expediency of hurrying to the spot that he might personally settle with his tenants. When he asked the Recorder<![if !supportFootnotes]>[1]<![endif]> what he would do under similar circumstances, the Recorder replied that "He would post away and be there before them." "Well then," said the Doctor, "I'll start to-morrow morning."
Having obtained the Lord Mayor's permission for the city gate to be opened before sunrise, Burton with his servant set off on horseback early the next morning, and arrived at Settle between nine and ten the same evening, just as an express was passing through the town with the news that the Highlanders had taken the route towards Lancaster. Thus an end was put to the Doctor's fears respecting the plunder of his tenants, and the next morning (Sunday) he wrote to York to announce his intention to be at home on Tuesday or Wednesday following. But that very day he went to the village of Hornby, which, he says, was the nearest town to his property where he could have any tolerable accommodation, and here, as ill luck would have it, whilst his barber was shaving him at the inn, he was taken prisoner by a party of Highlanders who had escorted Lord Elcho<![if !supportFootnotes]>[2]<![endif]> and other gentlemen to Hornby Castle to dine and see the place. He was conducted as a prisoner to Lancaster, where he was permitted to go at large upon his parole, and he remained there until Tuesday morning, when he was dismissed with a pass for his safety, signed by Lord George Murray<![if !supportFootnotes]>[3]<![endif]>. Burton then returned to Settle, having appointed his tenants and workmen to meet him there, and with them he made a settlement of accounts, receiving a balance due to him of about £60. On Wednesday the Doctor arrived once more at York, and found that, during his absence, one Birkbeck, of Settle, a quaker, had ill-naturedly sent an express to York with the information that he had been seen with the Highlanders. This intelligence had been eagerly made use of by his enemies in York, and they raised a report that he had joined the rebel army. They did not scruple to allege that when he went to Hornby he knew that the rebels were there, and supposing that the Duke of Perth was with them he wrote a letter to that nobleman, which fell into the hands of Lord Elcho, who, having opened the letter, sent two Highlanders to bring the Doctor up to the Castle, and from thence he was taken as a prisoner to Lancaster, where he had an interview with Lord George Murray and a person called his Royal Highness Prince Charles. A day or two after his return to York, a rumour was current throughout the city that the rebels were at Rochdale, and were coming to York upon Dr. Burton's invitation, and it was said that he ought to be taken into custody.
On Saturday, the 30th of November, upon the strength of these reports, and without any legal information or other evidence having been adduced against him, Dr. Burton was committed to York Castle as "a suspicious person to his Majesty's government." The magistrates who signed the warrant of commitment were Thomas Place, Esquire, Recorder of York, and the reverend Doctor Jacques Sterne. Although the cause of his arrest is plainly set forth in the warrant, Dr. Sterne, as Burton alleges, maliciously gave out that the prisoner was committed for the crime of high treason, and he wrote several letters to his acquaintance to that effect, and sent a paragraph to a London newspaper with this false account of the circumstances. Dr. Burton had been a few days in prison when he applied to be released upon bail. This was refused by Dr. Sterne and three other magistrates; and a further charge against Burton was trumped up by the evidence of one James Nesbitt, a prisoner in the castle, upon which the same four magistrates signed a warrant of detainer, and endorsed upon it an order to the jailer that Burton should not be admitted to bail because they thought that the information given by Nesbitt amounted to a charge of high treason.
During his imprisonment in York Castle, Dr. Burton was treated with great severity. He was not allowed the use of pen, ink, or paper, or to have intercourse with any person, his wife not being permitted to see him. On the eve of the assizes at which he expected his trial was to come on, a king's messenger arrived at the castle with authority from the Secretary of State to remove him to London to be examined before the Privy Council. The prisoner was then so ill with the gout in his knees, feet, and hand, that he could not travel in any other way than in a coach, for he could bear to be in no other position than to be extended horizontally. On Wednesday, the 12th of March, 1745-6, after three months' incarceration, the unfortunate Doctor, accompanied by the king's messenger, "set forwards in a coach and six, about two o'clock in the afternoon, for London, where they arrived very safe on the Monday following." At London, Burton was detained eight weeks in the messenger's house, but without having to complain of any ill usage, and was then sent for to the Cockpit to be examined by the Privy Council, and from eight o'clock in the evening to near one o'clock in the morning of the 7th of May, 1746, he was under examination. Another long detention followed, and the Doctor seemed to be forgotten. On the 9th of February, 1746-7, a day or two before the suspension of the Habeas Corpus Act expired, Burton wrote to the Duke of Newcastle's secretary to request that he might be liberated upon bail. Until the 4th of March following he was left in suspense, no answer being vouchsafed to his application. On that day he had an intimation that he must make an affidavit that he carried neither bills, money, nor letters to the Highland army. This he consented to do, and on the 25th of March, three weeks afterwards, he had notice to appear at the Cockpit with his bail. They went there at seven o'clock, but it was near twelve before he obtained his discharge. The bail-bond was for his appearance at the York assizes in July following. When the assizes were held, no prosecution was instituted against him, and his bail-bond was formally discharged.
Thus it appears that the persecution of Dr. Burton by his political opponents, which began on the 30th November, 1745, was not concluded until the month of July, 1747, and during nearly sixteen mouths of that interval he was in durance vile.
In the year 1749, nearly two years after the cessation of the proceedings against him, Dr. Burton published the pamphlet entitled "British Liberty Endangered,"<![if !supportFootnotes]>[4]<![endif]> which contains a detailed account of all the circumstances attending them. We cannot be surprised that the Doctor's narrative is imbued with a strong feeling of bitterness against those persons who took the most active part against him, among whom Dr. Jaques Sterne was on all occasions the most conspicuous and inveterate. But his veracity has not been questioned, and there is no reason to suspect that any of his statements, although highly coloured, are not founded upon facts.
<![if !vml]>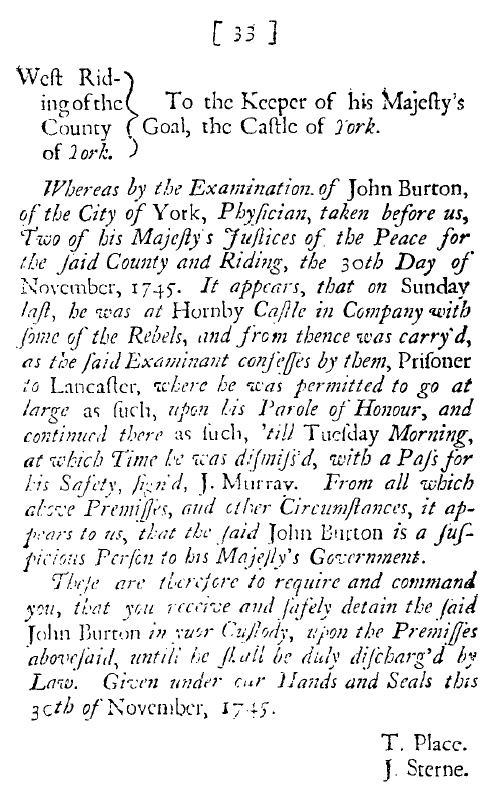 <![endif]>
Page 34
<![if !vml]>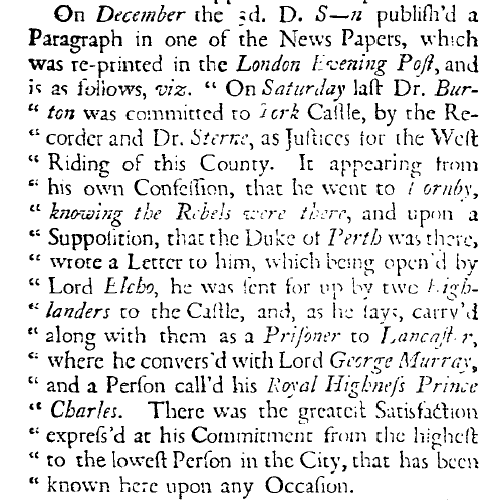 <![endif]>
Page 40
<![if !vml]>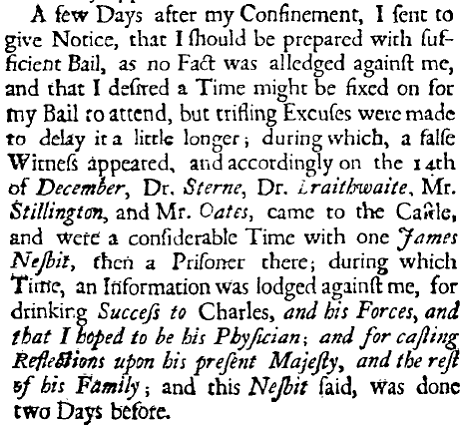 <![endif]>
Page 41
<![if !vml]>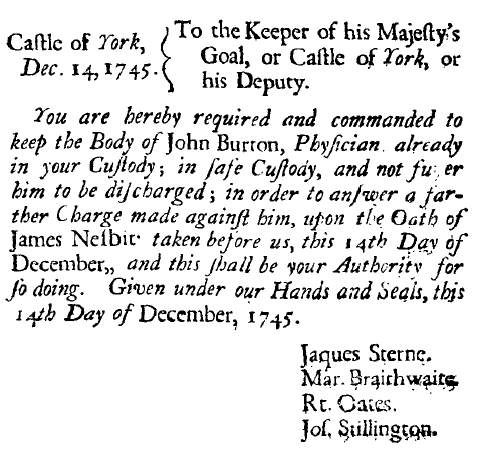 <![endif]>
<![if !vml]>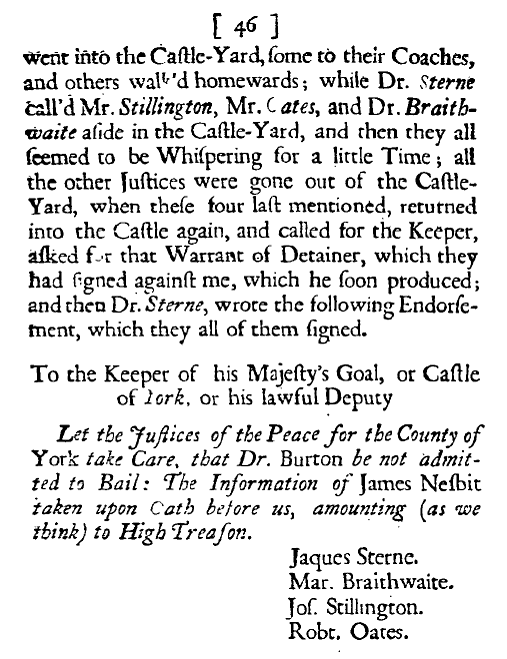 <![endif]>
Page 48
<![if !vml]>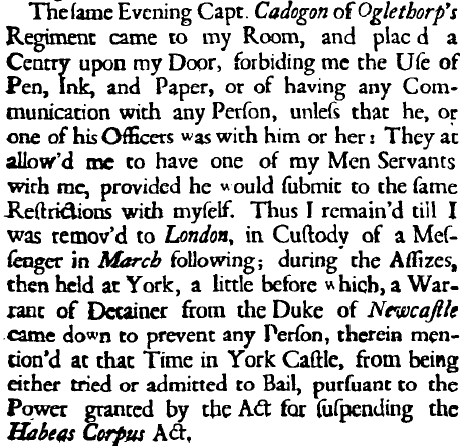 <![endif]>
Page 50
<![if !vml]>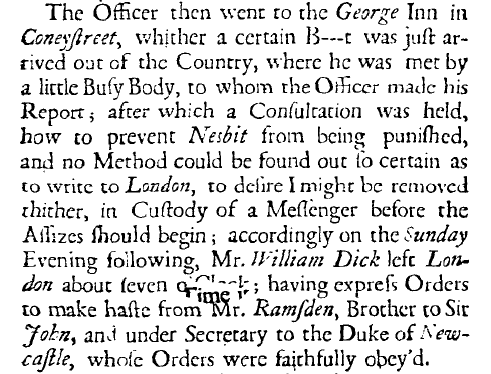 <![endif]>
William Dick was the same Messenger that took care of Flora MacDonald and Donald MacLeod and several other Jacobite prisoners. It was here that he copied interviews that he had with Flora, Donald and many others and sent them to Robert Forbes in Leith which he included in his book The Lyon in Mourning Volume One,Two, and Three. This was first published in 1749 as
A Genuine and True Journal of the Most Miraculous Escape of the Young Chevalier, from the Battle of Culloden to His Landing in France By John Burton:

and republished in 1884 and 1885 as A Genuine and True Journal of the Most Miraculous Escape of the Young Chevalier, from the Battle of Culloden to His Landing in France By John Burton, Edmund Goldsmid: " and then became Book Two of Ascanius; or, the Young Adventurer for all subsequent versions.
Page 54
<![if !vml]>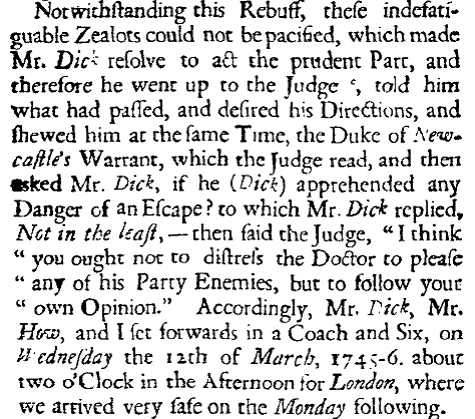 <![endif]>
Page 55
<![if !vml]>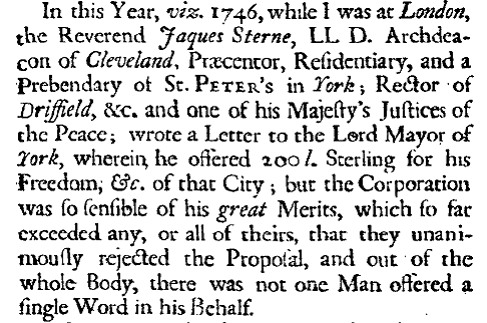 <![endif]>
<![if !vml]>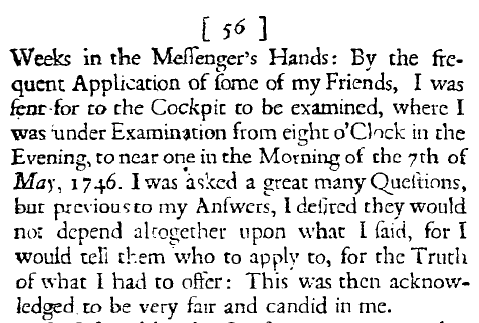 <![endif]>
Page 57
<![if !vml]>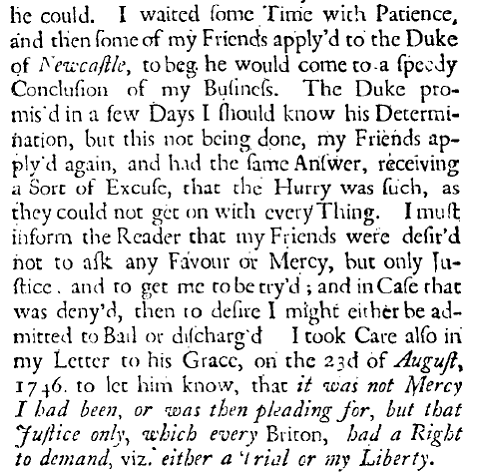 <![endif]>
Page 58-59
<![if !vml]>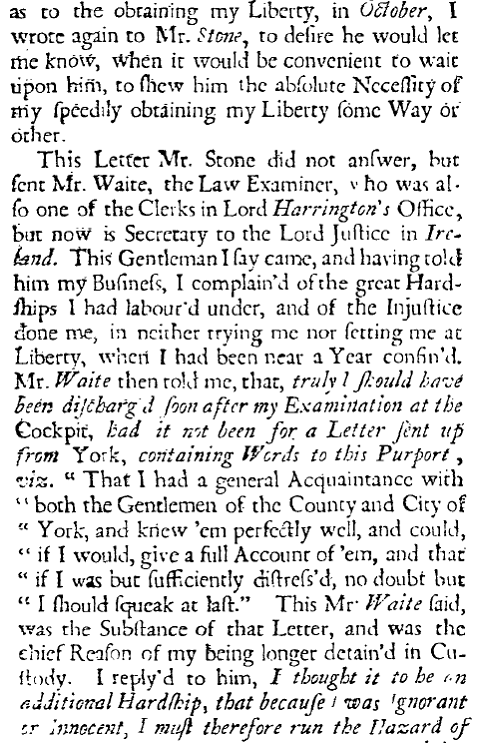 <![endif]>
<![if !vml]>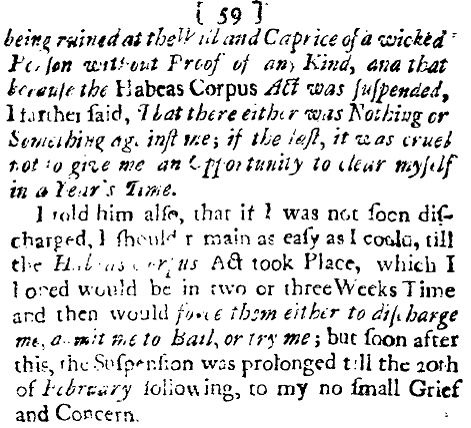 <![endif]>
<![if !vml]>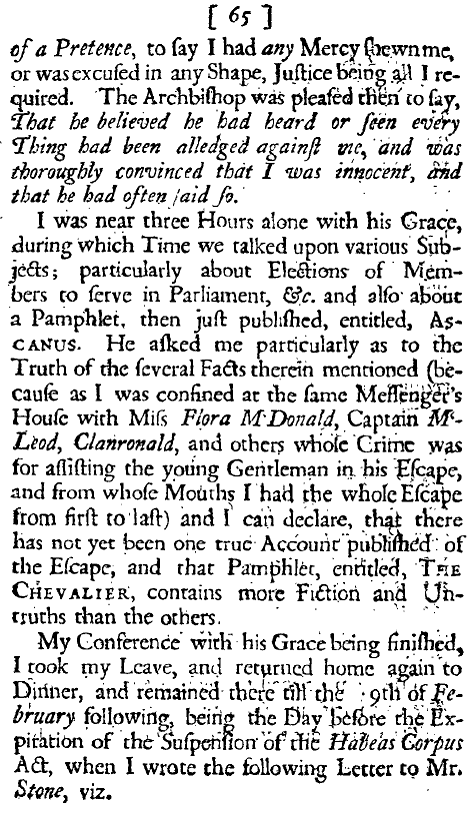 <![endif]>
<![if !vml]>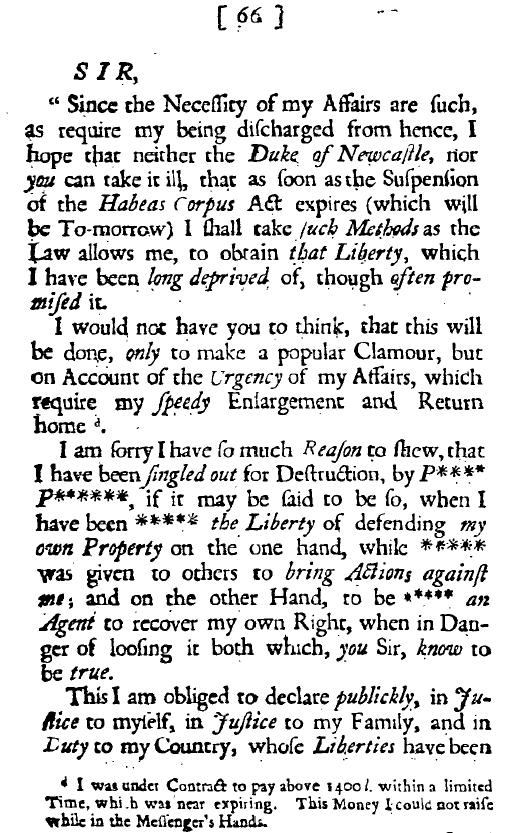 <![endif]>
<![if !vml]>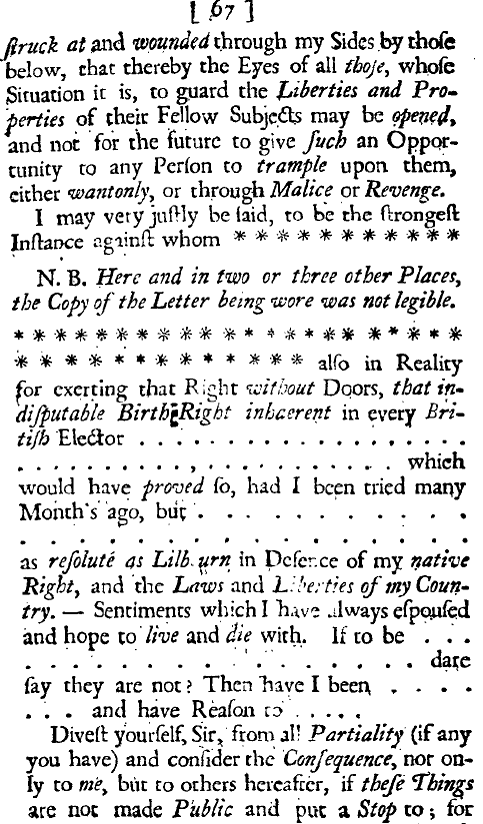 <![endif]>
<![if !vml]>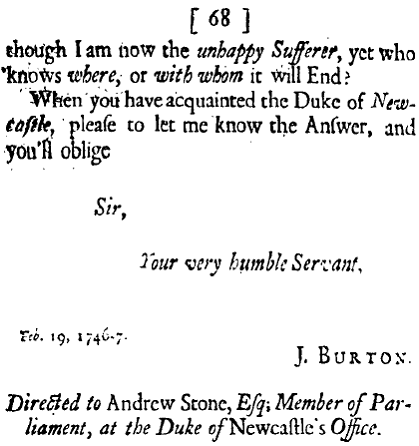 <![endif]>
<![if !vml]>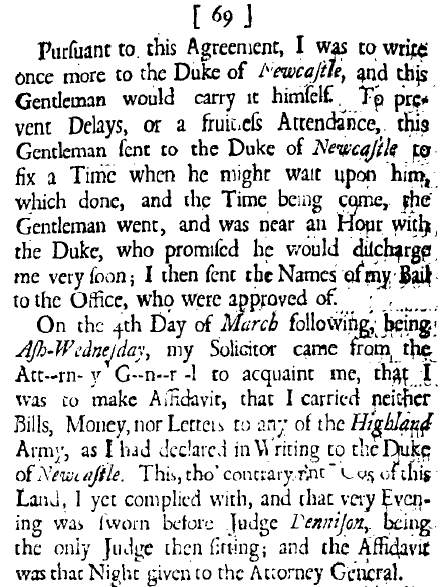 <![endif]>
Page 70
<![if !vml]>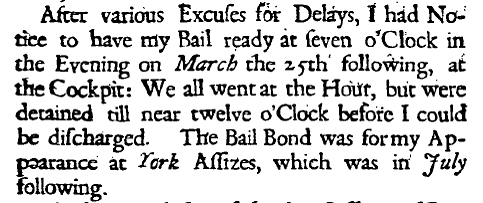 <![endif]>
This damning evidence provided by John Murray of Broughton was not used against him.